Prepare yourself for an extremely pointless thread about me and my life.

Let's start with, I LOVE ANIME.
And the color Magenta.

Ok, proceed.

Hello everyone, I'm Rachel; also known as Megan (Megan Fox) from another server, Nigerians from another; etc. etc.
I'm 21 years old turning 22 in August, I live in New Jersey in the United States.
I'm a huge gamer!
I play (used to) Xbox (LIVE), I've been a gamer since I was a child and always will be until I die.
I have a Skype, but that's only for Admin+ so please don't bother asking for it, this is obviously for security reasons because I know what people do.
I'm a very nice and helpful person, It's been a passion my entire life and most likely always will be, no matter what the situation is.
I do try my best to have perfect grammar, but I'm lacking in the field of semicolons and all that bs. I also do correct grammar, so don't be mad.
I'm going to dedicate myself to this server, as you might not have seen... I'll post an AIO guide when the server releases.
That guide will be edited at times, as things become more clear to me and as things are added/changed.
I will post a Bug/Suggestions list, any serious bugs won't be posted so please don't expect anything serious.
Honestly, it's very hard for me to make friends... reason being because I'm easily misunderstood. So if you don't understand me, just ask.
If you need help AT ALL with almost ANYTHING, please do not hesitate to ask. I'm on the forums 1/3rd of the time and also on in-game throughout all time zones.
I'm a big rule nut, I abide to the rules at all times, so if you're doing something, expect to get in trouble.

Ok now seriously, more about me and not about the server.

Nicknames: Ray ray, Megan, Nig, Rach.
A/S/L: 21/F/NJ, single, ask me if I'm Female and I won't respond because that's a retarded question.
I can speak English, French, and somewhat Japanese.
I love to design graphics in Photoshop for the hell of it and love wasting my time on anything in general.
Favorite types on music are like Rock, Rap, Country, Techno, Nightcore, almost anything tbh.
Favorite Bands: Linkin Park (#1), Papa Roach, Bullet for My Valentine, Three Days Grace, and Green Day.
I do like other artists, like Ke$ha, Lady Gaga, Katy Perry and Avril Lavigne (#1).
More other artists, Eminem, Evanescence, Regina Spektor, Train, Matchbox Twenty and some Japanese Anime music (Intro music).
I've played games my entire life, gamers ftw.
My in-game name is the same as my forums username.
I was a Moderator on the server before this and also a Co-Owner on a toplist server (Former #3 server).
Resigned from Co because the staff started blackmailing everyone and turned everyone against me.
Still a Moderator on the other server, it's just closed down until further notice, I'm not be going back.
I base everything off of mathematics, so I might sound like an idiot sometimes.
I am a huge 'Conspiracy Theorist'.
Ron Paul is my idol.
I like to watch live streams on Twitch.
My favorite game is CS: GO, aka, Counter Strike: Global Offensive.
Dreamhack, ESEA, CEVO, ETS, EMS, love em all. (CS: GO Tournaments)
Ex-Professional Competitive sniper in Modern Warfare 2 on Xbox. (Teams: rM, M40A3, xR)
My original account on Xbox got banned, it was a 7 year old account with 60,000G.
I lost about 400$ in downloaded content because of it.
Ask me out on a date? or ask me anything sexually? Instant deny and block. (Possible Mute/Ban)
739 days until I can claim my 10 year cape on RS3.
I love to watch Anime, feel free to ask about what I've seen/prefer.
I love to watch Scrubs!!!! Over and over and over again, my favorite TV show ever.
I love cats to death, literally... I'm a 'Crazy cat lady'.
I love the color Magenta, or Hot Pink.
I love Macaroni n' Cheese, Salad, Spaghetti and so on.
FYI I'm a vegetarian.
I don't like to curse (cuss) or talk about anything inappropriate.
If I don't know you, message me in-game and maybe we'll have a chat.

Last but not least, typing a <3 in any sentence to me kinda ruins it, please refrain from doing so.
It's not you, it's just a personal issue that I have.

I might have missed some things but that's not important... thanks for reading this!

Sincerely,

-R

Copy Pasta'd from our previous forum.
_________________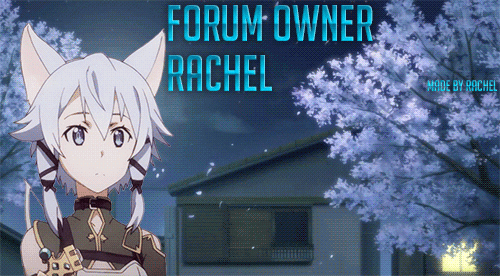 Rachel

Forum Owner





Posts

: 17


Join date

: 2015-01-19


Age

: 29



Nice to see you again Rachel! Although we had our scrapes I think we will get along great this time!
_________________

Kidd Baker




Posts

: 51


Join date

: 2015-01-19


Age

: 23


Location

: Kentucky, USA



Geese that was alot to read baker,
_________________

Kidd Conte

Kidd conte




Posts

: 20


Join date

: 2015-01-19


Age

: 23


Location

: united states



No I have read her intro before. Shes one of the old players I was talking about.
_________________

Kidd Baker




Posts

: 51


Join date

: 2015-01-19


Age

: 23


Location

: Kentucky, USA



I think this is the third time i've read this now, but still, nice detail. Good intro
Xitra wrote:I think this is the third time i've read this now, but still, nice detail. Good intro
^What he said 

Bonesaw




Posts

: 36


Join date

: 2015-01-19




---
Permissions in this forum:
You
cannot
reply to topics in this forum